Prevent Damage to Trails During Winter Freeze-Thaw Cycle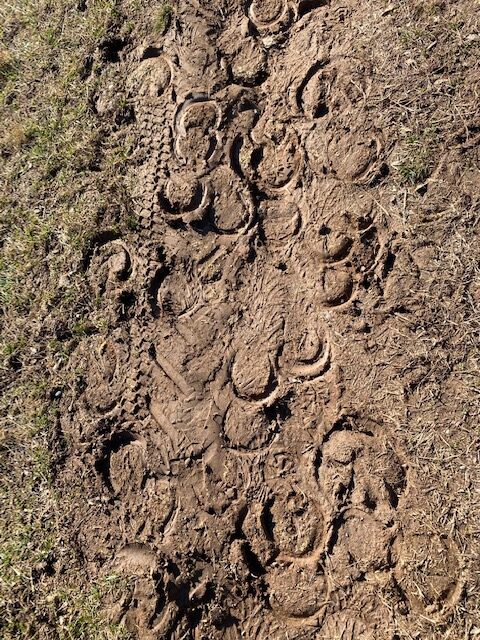 Winter and Spring Riding can be tricky for riding due to the natural freeze-thaw cycle. Not everyone knows, if you see you are leaving horse prints behind you on public natural surface trails, you should be turning back. We need to be as diligent as other users such as mountain bikers in making sure we are part of a sustainable trail system and are not damaging the trails.
When temperatures go below freezing (32 F), the moisture in the ground freezes in place instead of draining away. Since water expands as it freezes, it breaks up the soil around it. When the temperatures rise, the frozen moisture melts and mixes with the soil making a mud surface on the trails. This cycle can be repeated for multiple days. This makes it difficult to tell when to stay off the trail. During other times of year, riding a few days after a rain is enough. During the winter and spring seasons, this free-thaw cycle can happen frequently and over several days.
Why is it important to keep off the public trails during this freeze-thaw cycle? Because it tears up the natural surface trails and takes hours of volunteer man-hours and resources to fix. This includes de-berming and filling in damaged areas with hand tools. We would prefer to work on more exciting trail projects then repairing damaged trails.
If most of the trail is dry, and there are a few wet spots- remember to ride on the trail and not go around wet areas. This prevents the widening of the trail bed, which makes trail repair more difficult.
What you can do:
You can ride trails when they are dry or frozen (sometimes early morning or later evening rides can be safer as the temperatures drop and can freeze the riding surface).
If you see hoof prints behind you- please turn around.
During these times seek out better riding options such as various covered and uncovered arenas, or trails that are made of gravel surfaces that are more resistant to rutting such as the C and O canal, or even your own property.
Ask your favorite Maryland Park if they can follow Montgomery County's lead.
You can otherwise organize with other riders in your area to alert other equestrians on social media such as on the Facebook riding groups such as Potomac Bridle and Hiking Trail Association or Trail Riders of Today Community page.
Also, remember that Montgomery County Parks in Maryland have a handy rain out and trail status informational resources you can follow.
Rainout- get email and text alerts for your favorite parks, or call and listen to the phone menu at (240) 270-0008, or visit the website at:
https://montgomeryparks.org/activities/park-trails/rainoutline-trails-operating-status/